Football season is past the quarter pole
! The hair pulling, TV-screaming, remote control throwing and furious cigarette smoking is in full swing. Before I let rationality cloud my judgment, here are my knee-jerk reactions from the fifth game of the season: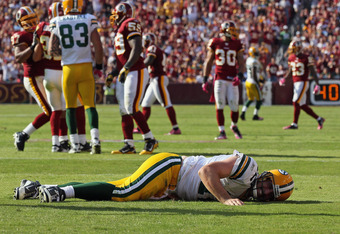 Did we really just fell a giant? What is going on? Forget giving up after halftime, I definitely had this penned into the loss column for a few months. I figured it was all bad after going backwards 23 yards from the Packer 20 on our first drive and punting instead of getting any points. So they were missing half their team, we are in 1st place after 5 games with a very manageable schedule. Wai, wha? On to the other notes:
Muscles Landry is making the Pro Bowl.
Joey Galloway is a joke, just a waste. Devin Thomas really wouldn't have been better?
On that note, at the end of last year didn't we have a pretty awesome young TE who once overslept his alarm? What happened to that guy because we could definitely use some pass catching help.
Ryan Torain, meh.
I really don't know if the defense was good or lucky.
We drafted Dallas Sartz (USC LB) with the pick I wanted us to take Mason Crosby.
Fortunately, Graham Gano makes me feel pretty confident.
Anthony Armstrong still doesn't make me feel very confident.
Brandon Banks is my favorite player effective immediately.
Clay Matthews being out was huuuuge. McNabb was a sitting duck at the end of the game, but the Pack pass rush was not nearly as scary without Fabio.
Rak almost literally does get held on every play. I used to say it, but replays of a pass rushes where he had the edge showed he literally got held every time.
For all our love of Rak, let's not forget we drafted him out of position and could have Clay Matthews right now at a cheaper price, or Brian Cushing and his roids.
Jordy Nelson was someone the Skins considered drafting instead of Devin Thomas and/or Malcolm Kelly...and I don't even have to finish this sentence...
McNabb was not good today, I don't care what the stats show. That long throw to Armstrong was off by about 15 yards - Armstrong was buck naked and McNabb almost turned it into an incompletion.
McNabb played his best when he seemed the most hurt - no idea what to make of that.
No Ovechkin Capital One commercial, not acceptable.
The Redskins go to the last play every week, the Caps win 7-2.
(Image courtesy of bleacherreport.com)