A loss like that almost makes you forget that the Skins made a franchise-altering decision by giving Donovan McNabb an extension. But really, this contract holds much greater importance for the franchise than Michael Vick looking like
Bo Jackson in Tecmo Bowl
.
Unfortunately for us long suffering fans, this decision is an absolutely awful one, and a reflection that past mistakes are continuing. The idiocy behind this decision goes way deeper than money.
First, I want go back to this summer, when the Skins decided to drop Jason Campbell and trade for McNabb. The Skins stubborn refusal to rebuild seemed poised to change with a new GM and Coach, but as we all know, there is something in the water around Ashburn...and by something in the water I mean Dan Snyder's kool-aid.
The Skins were 4-12, low on draft picks and in obvious of an absolute teardown. Instead? The team decided to trade a 2nd and what I believe will be a 4th round pick for a 33 year-old quarterback who ranked as very mediocre last year. By
Football Outsiders metrics, in 2009
, McNabb ranked 20th on a per play basis and 16th in total production. By the less telling
quarterback rating
, McNabb ranked 12th last year. You can sell the leadership angle all you want, but 33 years old and mediocre with declining production is not a good idea. There is no rejuvenation machine.
Meanwhile, the Skins already had a mediocre guy in JC. A 28 year old who in 2009 was 25th on a per play basis, 20th in total production, and 15th in QB rating. Campbell's 2009 numbers are worse than McNabb's, but he was playing with one of the worst supporting casts in the NFL. If you want to bring up McNabb's leadership, then you have to be open to the counter that Campbell might have more growth left in him than the average 28 year old QB, as someone whose literally had to learn a different offense for every of his football life since his freshman year at Auburn. I could go into some guestimating that Campbell and McNabb's respective performances last year were not very different, while Campbell was/is cheaper and younger.
Fortunately,
Football Outsiders decided to tackle this very subject the day before the McNabb deal was signed
. For those of you without Insider, FO uses 'similarity scores' to find comparable players, and Campbell's 2007-2009 stretch shows a lot of players, "on the verge of something great, or at least prepared for multiyear stretches with high levels of performance." Meanwhile, McNabb's 2007-2009 compares to a bunch of guys who, "were about to see serious downturns in starting time and overall production." These are not 100% predictive measures, but strong indicators. As FO states, "Is McNabb headed for a similar downturn? Prorated to a 16-game schedule, his 2010 stats certainly indicate it." Yeah, we noticed. But wait, there's more,
"The Redskins may have wished for the McNabb who came of age a decade ago, but again, it could be argued that they already had that player and let him go. When running similarity scores for McNabb's three-year period from 2002 through 2004 -- you know, the one that included three conference championships and ended in a Super Bowl -- the comparisons are even more interesting. Behind the Steve McNair of 2001, the second-closest comparison sticks out like a sore thumb: Jason Campbell, 2009."


Wow. It would have been nice to bring this to our attention 8 months ago. You get the impression though that FO's article could have been planted on Snyder's desk this Spring and it wouldn't have made a smidgen of difference.
This is a prime example of the biggest problem with the Redskins in the Snyder era, and that is a refusal to rebuild with youth. It doesn't get more clear cut than the veteran McNabb blocking a younger Campbell. So Campbell may have been slightly worse,
but to give up 2 high draft picks and take a 33 year old over a 28 year old is outrageous for a 4-12 team
.
That is why this contract's atrocity goes beyond the money. Furthermore, the one thing the the Redskins have done well over the years is manage the salary cap. This team has never really been inhibited in the ability to sign someone to a contract, and continually throws money around. The problem with this team has never been the execution in signing these guys, but rather the plan in going after veterans at the expense of youth and rebuilding. The money the Skins gave McNabb is indeed outrageously high for a player of his caliber, but it doesn't matter.
What does matter is that we are committing to McNabb. I know
the Skins have an out after this season
, but you are kidding yourself if you think McNabb isn't going to be the starting Redskin QB for at least next season. As FO concludes,
"This situation may not affect the Redskins in the long term; McNabb is scheduled to be a free agent after the 2010 season is done, and he may take his talents elsewhere in the offseason. But if the Redskins actually do succeed in signing McNabb to a long-term deal, past and present trends indicate that it could be a dangerous risk ... and that Campbell may have been the smarter choice all along."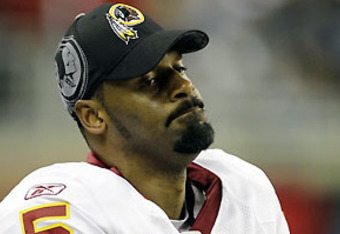 Even worse than being saddled with a bad QB when we had a better and cheaper option in-house, is what this deal shows about the franchise direction: the Redskins are again refusing to admit a mistake and rebuild. We never should have expected otherwise, as
Jamie Mottram of MisterIrrelevant.com and Jack Kogod pointed ou
t, 'The McNabb contract was the inevitable conclusion of the McNabb trade.' Admitting a mistake is difficult, especially in an organization with a high turnover rate, but the trade is a sunk cost and this floundering team should cut its losses.
Not only is the rebuild delayed (I know, any chance of a rebuild under Snyder, ever, is optimistic), but as long as McNabb is the QB of this team, we will not be good; the Monday night loss underscored the state of the franchise. What this contract really means is that the next few years will continue to be excruciating if we are not already numb.
(Campbell and McNabb image couresty of inewscatcher.com and McNabb image courtesy of bleacherreport.com)