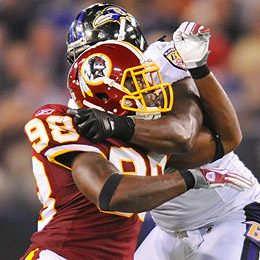 Found this on
page five
of Peter King's Monday Morning Quarterback and couldn't resist:
Packers linebacker Clay Matthews makes two significant plays a game.

Speaking of first-round rookies, there's a heck of a race for defensive rookie of the year. Buffalo safety Jairus Byrd leads the league with nine interceptions, and Houston LB Brian Cushing had another monster game: 10 tackles, a sack, two other tackles for loss, three QB pressures. Matthews. James Laurinaitis of the Rams. Pretty tough call.

Not even a mention of Orakpo - who
received his Defensive Player of the Week award
, by the way:
Who'd have thought Orakpo would have rushed the pass more productively in the first 13 games of his rookie year than Demarcus Ware, Julius Peppers and LaMarr Woodley?

The DCLS
and everyone's mother did.
Granted, it's one man's opinion, and to be honest, trying to decipher this particular man's rationale has been a fool's errand on a number of occasions throughout the years.
But that doesn't make his embarrassing oversight any less infuriating.
[H/t to DCLS correspondent and
former Jay Gibbons enthusiast
, Plotty]