Picture this extremely unmagical and highly unrealistic scenario:
The Redskins were suddenly contracted.
What would happen next is a dispersal draft would take place, relocating our beloved Redskins one-by-one to different cities around the league.
Obviously, teams would draft in consideration of a number of variables such as team needs, ability, character, age, contract status, etc.
For the sake of this blog post, and the big board below, we have decided to disregard all things contractual in an attempt to assess the
true value
of each player on the football field.* However illogical it may be, for the moment try to imagine if every player made the league minimum, was signed to a life-time contract, and the Skins were no more. Which current Redskins possess the most value in a dispersal draft in this
super messed up
circumstance?
1.
Albert Haynesworth
- This one is pretty much a no-brainer, although the fact that he has only played the full 16 games once in his career is somewhat of a concern. Still, he's the most dominating DT in the game and certainly
acts the part
.
2.
Brian Orakpo
- The 13th overall pick in the 2009 draft is making the 12 teams that passed on him look like dinguses. Maybe one of them would learn from their mistake in the dispersal draft? He has the tools to become
scary good
.
3.
LaRon Landry
- From a very biased (obviously) standpoint, he is quite possibly the most physically gifted safety in the league. Whether he puts it all together and becomes the star most scouts envisioned when he was drafted still remains to be seen, but he's only 24. I like his chances.
4.
Jason Campbell
-
All you haters can suck it
. He's a quarterback. He's the epitome of class. He's got a cannon for an arm. He's only 27. He's big. He's mobile.
His teammates love him
.
Disliking him is an impossibility
. He has value, and he has a lot of it.
5.
Carlos Rogers
- Yea, he drops passes that are thrown right at him. But there's plenty of value in a shutdown corner, which Rogers can be when he's on top of his game. Oh, and there's
this
.
6.
Chris Cooley
- He's got great hands, runs good routes, blocks like a champ, never goes down after first contact, and has a
smokin' hot wife
.
7.
DeAngelo Hall
- He's only 25, which is weird, because it seems like he's been in the league for about 10 years. He still has elite speed and big play ability. He also still has questionable character and can be inconsistent in coverage. So...
8.
Santana Moss
- Homerun hitter that can go the distance every time the ball's in his hands. Unfortunately
those hands are questionable
, as is his ability to stay healthy.
9.
Clinton Portis
- Ranking this low is no knock on Portis, whom I love in a borderline heterosexual way. But his age (28) and career carries (2,052) aren't headed south any time soon, and the wealth of good young running backs around the league makes him somewhat expendable in this scenario.
10.
Chris Samuels
- Slowly on the decline but still able to protect the blindside, and
pretty well at that
. Should have a few more excellent seasons left in the tank.
11.
Chris Horton
- He had a better rookie season than anyone could have envisioned. He's not the most physically gifted player but
always seems to find the ball and make plays
.
12.
London Fletcher
- His age is somewhat a concern but his durability is not, having NEVER missed a game in 11 years. Jesus. Great defensive quarterback who also happens to be a
tackling machine
.
13.
Derrick Dockery
- Above average guard who excels in the running game. He turns 29 in a few days, so he's not old, but he's also not young...I don't really have much to say about Derrick Dockery.
14.
Casey Rabach
- He's 32 but a good center cannot be undervalued. Plus, centers have been known to have
pretty long careers
.
15.
Mike Sellers
- He's one of the best fullbacks in the game, Redskins fan or not. He can catch out of the backfield,
plow through you
, or screw it, leap over you. But most importantly, he is a bruising blocker and a
scary-looking dude
, the two prerequisites to being a great fullback.
16.
Andre Carter
- He's 30 years old, by no means a star, and most likely on the decline, but he's still got some value in his underrated speed off the edge. Would probably benefit by not being the primary guy.
17.
Malcolm Kelly
- Still somewhat of a mystery, although an
excellent preseason
has restored some of the previous hype. Good hands,
GREAT flow
.
18.
Kedric Golston
- He's only 26 and massively underrated, IMHO. Would be a starter on most teams in the league, especially those without the guy ranked first on this list occupying their d-line.
19.
Rocky McIntosh
- Injuries have slowed him considerably, but he's still tackles like a champ when healthy.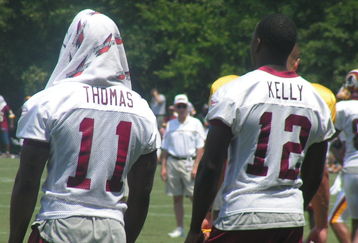 20.
Stephon Heyer
- He's still very raw but looks to have the size to succeed at right tackle. Wouldn't be an exciting pick, but also wouldn't be baseless or impractical.
21.
Devin Thomas
- See Kelly, Malcolm, but subtract a few tenths of a second off the 40-time, and add the words "lacks" and "focus" right next to one another.
22.
Antwaan Randle-El
- Has a lot of value as a slot receiver and emergency quarterback. Can return punts for you
if you're not big on production
.
23.
Cornelius Griffin
- Makes the list in spite of his age (32) because of his career body of work and the respect he commands as a defensive leader.
24.
Lorenzo Alexander
- He's only 26 years old and is without a definite position, but his size and versatility - plays offense, defense, and special teams - and willingness to do whatever is asked of him gets him on this list.
25.
Ladell Betts
- How many of you knew he is actually 2 years older than Clinton Portis? In football years, however, he's probably about 6 years younger, and has proven to be a
more than servicable feature back
. In other words, seems like he's got a lot left in the tank.
Guys who just missed the cut: Anthony Montgomery, Kevin Barnes, Rock Cartwright, Marko Mitchell, Colt Brennan
[Images via SI.com, Sean Conroy Blog, and Bleacher Report]

*This also may not be too impractical an exercise as the NFL seems to be headed toward an uncapped season in 2010-2011.