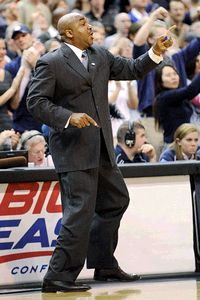 Before the season, I made a
preseason prediction that was pretty pissy
after last year's turd-sandwich that landed the Hoyas in the NIT. Well you know what? I was pretty damn close with that pissy prediction. I had the Hoyas at 19-11, 5th in the Big East, and a 9th seed in the NCAA tourney. Taking out the last 4 games of the season, the Hoyas went 23-11, were 7th in the Big East, and a 3rd seed in the NCAA tourney. So what do I win for my amazing prediction ability? A depressing, angering, nauseating loss to Ohio in the 1st round of the tourney.......
The game against Ohio was somewhat symbolic of one of the team's biggest problem: that its biggest star has been unable to take over games when he needs to do so. Ohio had no one capable of guarding Greg Monroe, and his
stat line ended up looking pretty good
, but he should have been force fed down-low. Just a frustrating game, although I can't say I'm too unhappy looking back now, as I wasn't overly optimistic heading into the season.
Which brings me to where my excitement has now been focused......next year's preseason #1 ranked Georgetown Hoyas! For those of you who didn't hear,
Greg Monroe stated that he wants to come back next year
, despite being a
projected lottery pick
. We've all had these as famous last words for collegiate athletes, but let's say Monroe's emotions weren't masking his true intentions. The
Hoyas do not have single senior on the team
, so will bring everyone back barring someone entering the draft. The Hoyas were ranked #14 or 15 going into the tournament, and although we did not live up to that lofty #3 seed, must still be considered about as good as our ranking.
Now look at the
teams ahead of us
and think how decimated they will be by the draft and graduation; Kansas might lose their 3 best players, Kentucky its best 3, if not 4, players, Syracuse 3 starters, OSU Evan Turner, WVA Da'Sean Butler, etc. My research yielded that the only team ranked ahead of the Hoyas not losing a top-5 scorer is the Butler Bulldogs. Butler has ZERO shot at the #1 preseason ranking and lost to the Hoyas this year, so the teams to worry about are actually Duke, Syracuse, and Ohio State, because they have all done some incredible recruiting. I specifically think Duke will be the other top ranked team, thanks to bringing back Nolan Smith and Kyle Singler, and snagging 2 of the top 18 recruits in the country according to the
ESPNU 100
.
That said, unless Smith and Singler have incredible tournaments and stay at Duke for next season, no team will have a group as good as the Monroe-Wright-Freeman trio, and the Hoyas will likely have the best starting lineup in the country as well, with a couple recruits to finally build some depth.
We all know what a #1 preseason ranking and being the #1 team earns you in the tourney:
Not to get too far ahead of ourselves.
(Image courtesy of a.espncdn.com and research courtesy of espn.com)