I want to have the news first, and the Sharks just lost in OT to the Avalanche, meaning the Caps have clinched/won the President's Trophy with
114 points and 4 games to pla
y
(note the sweet little star). The Sharks sit at 107 points, with 3 games left, meaning the highest point total they can reach is 113. The Blackhawks have 105 points and 4 games left, so also can only reach 113 points.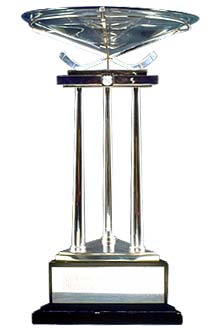 Not quite the Stanley Cup
With the Caps 'sputtering' through these last few games, my excitement is mooted, but we should still be proud of being the
best team in this regular season
and happy that we will enjoy home ice advantage throughout the playoffs, particularly on a night when the
Wizards just played in the toilet bowl
and the
Skins were back to their old 'tricks'
(or something like that). Let's just hope we also get the trophy for being the best team in the playoffs.
(Image courtesy of hhof.com)